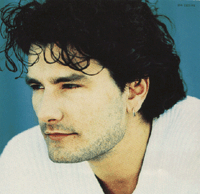 Well produced romantic music….
"All I Ever Wanted" is the first album from Kim Wagner. After been a very used "sideman" with most of the topartist in Denmark released his solo debut album in 1999.
The result is a well balanced album with good melodies and you can really fell his very personal touch in every tune. This is a production made by the heart and not by the commercial interest, that´s why it is a good album.
In 2012 Kim Wagner stepped back to the music scene in Denmark when he entered the TV Show "Voice" a reality show competition to find the best vocalist in Denmark. Kim Wagner went all the way and won the competition.
Due to that Universal Music released the album "Universe Outside" 13 years after his debut album, a big comeback for Kim Wagner.
Discography
All I Ever Wanted
EMI Medley Records 1999

Tracks are: Free, All I Ever Wanted, Piano Intro, Praying For Rain, If I Fall, For Real, Prisoner Of Pride, Da Voi Lontan´(opera intro), Counting Tears In The Rain, It´s Not Enough & Never Knew Love.

Musicians on the All I Ever Wanted album: Kim Wagner, Oli Poulsen, Jens Runge, Louise Hartvigsen, Niklas Medin, Per Lindvall, Jonas Krag, Marek Lappok, Mikkel Damgaard, Kaare Thøgersen, Thomas Luffe, Hasfield & Anders Nilsson.