The man behind the name…
Born in Brooklyn, and raised in Toronto, Marc grew up in a household that abounded with music. Classically-trained Charles Jordan, a singer and radio personality, exposed Marc to everything from Woody Guthrie to Grieg, and to all of the jazz greats.
Marc studied filmmaking in university but soon slipped back into music and songwriting. Marc focused mainly on pop throughout his career, writing for a spectrum of artists including Cher, Joe Cocker, Chicago, Kenny Loggins, Natalie Cole, Manhatten Transfer, Holly Cole and Amanda Marshall.
In 1992, he gave Rod Stewart a worldwide #1 hit with "Rhythm Of My Heart", as well as "This" which went Top 10. And 1999 has proven to be another stellar year for Marc. Cher recorded a second Marc Jordan composition ("Taxi Taxi") for her blockbuster album Believe, predicted to hit sales of 10 million by Christmas.
Back for more, Rod Stewart has once again mined Marc's portfolio, finding two songs for his new CD due out in January 2000. When all is said and done, though, timing is everything.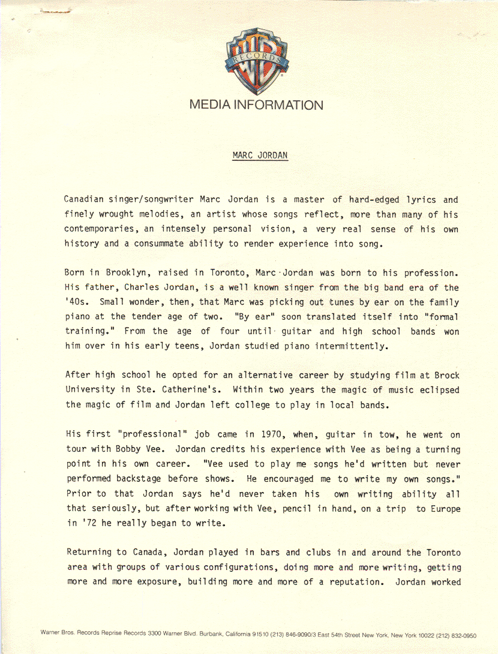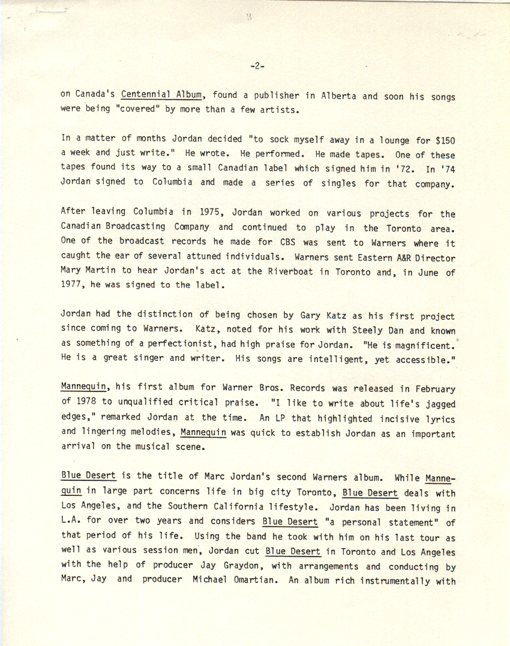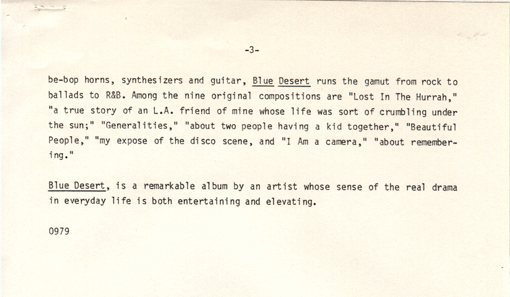 Having recorded eight albums of his own and satisfied with his reputation as a songwriter.
His second album "Blue Desert" is a masterpiece in the west coast music world, and this album title was the inspiration to the name of this website.

Marc Jordan –
Blue Desert
"Our inspiration to our title of this website"
The Tracks are: Generalities, I'm a Camera, Twilight, From Nowhere to This Town, Beautiful People, Lost in the Hurah, Release Yourself, Tattooed Lady & Exile
Musicians on the Blue Desert album: Marc Jordan, Jay Graydon, Michael Omartian, Ray Parker Jr., Dean Parks, Abraham Laboriel, Ralph Humphreys, Ernie Watts, Greg Mathieson, Jeff Porcaro, Venette Gloud, Jim Keltner, Bill Champlin, Marcy Levy, Steve Lukather, Bobby Kimball, Tom Kelly, Steve Porcaro, Buzz Ramar, Carmen Twillie, Chuck Findley, Pete Christlieb, Dave McMorrow & Ben Benay.
Available from Warner Bros./Original release year: 1979