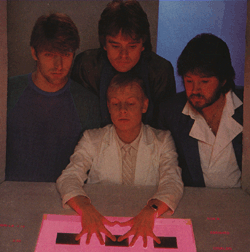 The beginning…
Late 70´s the guitarist Torben Johansen played together with Jan Eliasson (bass & Vocal), Ole Trier (piano & keyboards) & Steen Christensen (drums). The band was named Rainbow and they played many gigs around in Denmark. The band was a kind of partyband that played their own music combined with coversongs of Toto, Earth Wind & Fire and many more. They were the band that other musicians loved to see live and they were also used as backingband for many other artists and the "Rainbow" members were also used as studiomusicians.
Because of their success they recorded the album "At Last" in 1978 and it was released on EMI Records. The album release was also the end of the band, a while after they splitted up, and the musicians worked further on with other projects.
Torben Johansen started in the beginning of the 80´s in Denmark the group "Survivors" with leadsinger Roy Richards in the front toured around in Denmark. The band combined the danish rock and the american sound and they were very popular in the areas around Copenhagen.
3 bandmembers from "Survivors", keyboardplayer Bent Corlin, bassist Lars Danielsson & guitarist Torben Johansen started a new band in 1982 called "Toby". Together with drummer Peter Schoitz they worked in the studio on their debutalbum, and with help from the leadsinger from "DC Army Band" Soren Launbjerg the album was released the same year.
The band had a musical influence from Toto and other american west coast bands, and their album was a great ambassador for danish music at that time, a very wellplayed album with a lot of highlights. Toby did only release one album, but the band was the beginning of the danish west coast music scene, and in 1985 Lars Danielsson, Torben Johansen & Peter Schoitz formed the "De 5", and released 2 albums with this band in the same music style.
Later the bassist Lars Danielsson has been very active and has played with Michael Ruff, Brenda Russell and many more.
Discography
Toby
Artic Music 1982

Tracks: Kvinden Fra Shangri-La, Løsningen, India Calls, Din Sang, Båndet Blev Ved, Åbenhed, Cirklen, Den Gamle Kriger, Hva´ Var Det? & T-Break.? & T-Break.

Musicians on the Toby album: Torben Johansen, Bent Corlin, Lars Danielsson, Peter Schiøtz, Søren Launbjerg & Jan Eliasson.