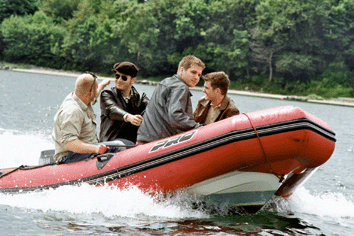 Band with the great ´80 pop sound and west coast influence…
Brand new band on the danish popscene that takes you back to the late 80´s with their melodic produced songs that reminds you of the classic "Rugsted/Kreutzfeldt" songs. The big talent of the band has taken them directly to the charts in Denmark and the song "Vinde Mit Hjerte" has got a lot of airplay at national- and localradio stations.
Popfilter are the twinbrothers Jakob (vocal/guitars) & Josef Baumgartner (keyboard/guitars), Simon Gronkjaer (bass) & Peder Tovgaard (drums) and at live gigs a couple of other musicians are added. Popfilter was one of the bands that were in the big national broadcaststationen program "Karrierekanonen", a program were new young bands could get the chance to "break thru" with help from the radiostation, that arranged live gigs, radiopromotion etc. With this they got the possibility to get their songs out, and they were adapted right away by the listeners, and very quick "Popfilter" got signed to Kick Records, and was also hired as "warm-up" band to the big local act "Poul Krebs".
The first album called "Popfilter" is released now, a great album with 10 popsongs with a big touch of the 80´s westcoast influence. The album is recorded and produced with help from Poul Halberg (Halberg Larsen), Palle Torp (Sko/Torp).
After a lot of live gigs and some adjustment to the band were Kim Bahnsen (drums) & Anne Hjorth (vocals, percussion) has joined the band the second album has been recorded and will be released in May 2007. The album is called "Uden Filter" and is mirror of what the songs are, without filter, Popfilter are playin´ straigh pop with touch of 80´s west coast sound.
So if you like great songs, you should try a new filter….. the Popfilter.
See more about the band here.
Discography
Uden Filter
Gateway Music 2007

Tracks: Hvad Vil Du Mere?, Den Sommer Blev Ved, Borte Med Blasten, Bare Du Er Her, Husk Det, Selv Om Du Vil, Som Et Blad I Vinden, Natten Er Lang, Gor Det Uden Mig & Jubilaumsfesten.

Musicians on the Uden Filter album: Jakob Baumgartner, Josef Baumgartner, Simon Gronkjaer, Anne Holt, Kim Bahnsen, Jan Kaspersen, Bjarne Nygaard Nielsen, Morten Eriksen, Per Chr. Frost, Hans Christian Erbs, Niels Norgaard, Michael Lund, Henrik Lynbech, Julie Munkholm Bruun, Naja Helmer, Emil Carlsson & Niels Mathiesen.
Popfilter
Kick Music 2002

Tracks: Vinde Mit Hjerte, I Orkanens Ojne, Leve Livet, Hjertets Karrusel, Hvem Kaldes Din?, Venter Paa Lykken, Bli´Her Hos Mig, Sommerkaerlighed, Nattetimer & Lykkelig Nu.

Musicians on the Popfilter album: Jakob Baumgartner, Josef Baumgartner, Simon Gronkjaer, Peder Tovgaard, Soren Bigum, Bjarne Nygaard Nielsen, Anne Holt, Storm Kleist Nielsen & Palle Torp.