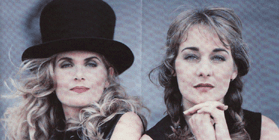 Great popband with west coast touch…
One Two was one of the leading acts of the late 80´s and into the 90´s. With a debutalbum that gave them a dream kickoff into the danish musicbusiness.
In front of the band is the leadsingers Cæcilie Nordby and Nina Forsberg, two girls with excellent voices. Most of the music where written by the guitarplayer Søren Benzen, who were very influended by the 80´s west coast music sound, and you can hear this in his music writting. Great pop band with west coast sound.
Discography
Si´r Farvel
EMI Records 2009

Tracks: Billy Boy, Midt I En Drøm, Smukke Anna, Si´r Farvel, Hvornår, Sker Så Tit, Hvis Du Kom Ud, Jeg Ka´Gi´Hva´Du Vil Ha´, Den Bedste Tid, Hvide Løgne, Det Er For Sent Nu, Hold Fast, Getting Better, The Wind Whispers You, Sha La La La & Don´t Follow That Road.

Musicians on the Si´r Farvel album: Cæcilie Nordby, Nina Forsberg, Søren Bentzen, Frank Stangerup, Frede Ewert, Jesper Mattson, Jan Lysdahl, Rune Olesen, Jesper Mejlvang and others.