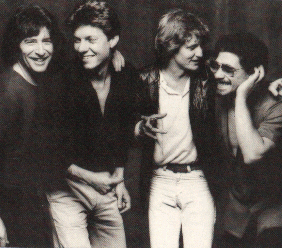 Full Moon featuring Neil Larsen & Buzz Feiten…
Neil Larsen, Buzz Feiten, Lenny Castro, Art Rodriguez & Willie Weeks started the Full Moon project in 1972. Larsen-Feiten was a very succesful partnership and they released 3 albums, two under the Full Moon name and one album as Larsen-Feiten band.
Since then both Neil Larsen and Buzz Feiten has been very active as studio- and live musicians. Neil Larsen has released five soloalbums and in 2000 Buzz Feiten released his album "Whirlies" and also a couple of other releases.
Discography
Larsen Feiten Band/Full Moon
Wounded Bird Records 2005

Tracks: Who'll Be The Fool Tonight, Danger Zone, Further Notice, Over, She's Not In Love, Morning Star, Make It, Aztec Legend, Phantom of the Footlights, Visitor, Twilight Moon, Sierra, Brown Eyes, Hero's Welcome, Standing in Line & Little Cowboys.

Musicians on the Larsen-Feiten Band album: Buzz Feiten, Neil Larsen, Lenny Castro, Art Rodriguez, Willie Weeks, Larry Williams, Kim Hutchcroft, Bill Reichenbach, David Sanborn, Larry John McNally, Jimmy Haslip, Lenny Castro, Chuck Findley, Jim Horn & Vernon Porter.