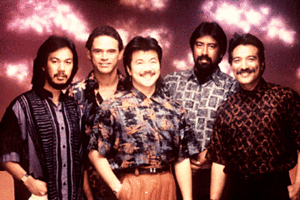 West coast music from Hawaii… 
In 1973, childhood friends, David John (DJ) Pratt and Carl James Malani Bilyeu, auditioned at the Rainbow Villa for the newest popular duo, Cecilio & Kapono. Cecilio & Kapono encouraged them to put a band together. Malani was performing solo at the Oar House in Hawaii Kai and DJ was downstairs at Chuck's in Sunlight with Kirk Thompson. They got together in DJ's grandfather's garage with Bryant Mackey Feary, who was another solo act, at the Oar House. They wrote a few songs, rehearsed, and there was a discussion about the meaning of Kalapana. The literal translation is "sprouting money". Kirk said the meaning was "beat of the music", but he wanted "Dove" anyway. DJ thought it meant "Black Sand", and after a couple of shakes of the head and a few smiles it was agreed, and they emerged as Kalapana, playing their first gig at Chuck's in Hawaii Kai.
The popularity of Kalapana grew and with farsighted management, they moved on to be the regular band at a new club called, "The Toppe Ada Shoppe" (the current location of Wahlgreen). Within years time, they opened concerts for Earth, Wind & Fire, Batdorf & Rodney, The Moody Blues, Sly & The Family Stone, and Cecilio & Kapono, released their first self-titled album, Kalapana which included, as sidemen: Michael Paulo on sax and flute; and Alvin Fejerang on drums.
The adept and flexible talents of these six musicians set a high standard for the future. The preceding events and the events to follow had such an impact on the Hawaiian music scene, topping all local record charts & having Billboard magazine do a review of their work, inspiring musicians and groups then and to the present day.
The overwhelming success they experienced held through to a three concert event, at the Waikiki Shell, on June 25-27, 1976, where a record 25,000 attended.
In 1977, they took part in selecting the entrants for the "Home Grown" album project which showcased Hawaiian talent.
The next big achievement was to win several Nani Awards, the predecessor to the present day Na Hoku Hanohano Awards. They were nominated for four categories and received "Best Performance by a duo or group", and "Best Male Vocalist" for Mackey, who had split from the group and joined up with Billy Kaui (Country Comfort).
By this time, the group reorganized to include Randy Aloya, replacing Mackey, ( who, was pursuing a solo career and released two albums: "The Mackey Feary Band" & "From The Heart"), DJ, Malani, Kirk, Michael & Alvin.This re-organized group, now including Kimo Cornwell, formerly with the group Beowolf (and currently with Hiroshima) on keyboards, toured in Japan and released "Kalapana Live In Japan" (Sun Plaza), "Northbound" and "Kalapana Alive at Yokohama". DJ, as Kalapana, also released "Hold On" and a solo LP "Branded".
In Hawaii, Mackey & Malani regrouped and recorded "Kalapana Live Reunion" from concert at the Waikiki Shell. The group members interchanged over the next few years while each pursued solo and duo efforts.
Malani released a solo album "Islands" which contained the tune "Molokai Sweet Home", that has become his signature.
The current configurations of the group consists of: Mackey; Malani; DJ; Kenji Sano, a brilliant bass player from Kobe, Japan & L.A. who is a well respected record producer and studio musician and is responsible for the success of many mainland and Japanese rock groups. His driving bass lines compliment Kalapana's sound providing a distinct rhythmic edge to the groove; and Gaylord Holomalia who is the keyboard wizard who provides the technical know how reflected in all the current Kalapana releases. As a producer/ recording engineer/ musician, he has worked with some of the best, including Cecilio & Kapono, Olomana, Country Comfort, Marvin Gaye and Japan's, RC Succession. He's also received gold and platinum RIAA awards for his work on Crosby, Stills & Nash's "Daylight Again" LP for Atlantic Records.
This grouping has proved to be the most innovative and prolific. The chemistry evolving from these five musicians "retains the best of the old with the tidy, sensible sound of today" (Wayne Harada/Honolulu Advertiser 1986).
1986 marked the start of a wave of album releases starting with "Hurricane", that exemplifies the new Kalapana style – a hybrid of using pop, folk, country and heady Hawaiian jazz with the latest colorful, contemporary music technology.
They presented the album at a gala album release party at Rascal Discotheque in Waikiki. The invitaions were sent out with singles from the album and roses and T-Shirts at the door. The community had never witnessed such a celebration to release an album before. The event, however, echoed what Kalapana had done almost a decade earlier: leasing the Roxy in LA, sending out invites with pineapples and giving out leis, orchids, and T-Shirts at the door.
The "Hurricane" concert, at the Waikiki Shell, presented them in colorful, stylish suits and new garb from Local Motion. A nostalgic number "Living Without You", brought them out in white, zoot suit, dinner jackets with large, red velvet bow ties. Kenji, Mackey and Malani danced to new choreography and, even DJ danced….with his guitar, on his famous outstanding solos.
They released "Lava Rock" in 1987, performed with Hiroshima (a LA based fusion band that Kimo had joined), and Anri (of Japan), played at the grand opening of the Hard Rock Cafe in Honolulu, performed in the Philippines to a crowd of 10,000 per night, at two sold-out concerts, toured Japan, the West Coast US, Tahiti, Samoa, Guam, Saipan, and outer islands and taped their first feature length video of the Lava Rock Concert, at the Waikiki Shell. They concerted and toured Japan with Michael Paulo, who was currently with Al Jarreau's band and Tris Imboden, the drummer for Chicago. This tour sky- rocketed their popularity in Japan, securing a five album deal with Pony Canyon Records.
They are currently spending a lot of time touring and recording in Japan and the West Coast. The releases, to date,on Pony Canyon are: "Back In Your Heart Again"; "Kalapana Sings Southern All-Stars"; and "Walk Upon the Water". The fourth LP, "Full Moon Tonight", was released at the time of the royal wedding in Japan, in the month of June 1995, included a new version of "Hawaiian Wedding Song" done in a finger-snapping R & B groove. Their latest album on Pony Canyon Records, "Captain Santa Island Music", consists of songs written for a clothing line in Japan. Each of the albums contain new arrangements of Kalapana classics, hosts an array of guest talent and has lots of new songs.
Over the years Kalapana has shared the stage, written and recorded with such personalities (not previously mentioned) as: Kenny Rankin, Pauline Wilson & Larry Williams of Seawind, Kiyotaka Sugiyama, Brother Noland, Cecilio & Kapono, Summer, Olomana, Jim Studer, Mari Iijima, Alex Acuna, Jim Thompson, Jay Graydon, Jerry Davis, Off-World, Richie Gajate-Garcia, Peter Gallway, Carlos Vega, Arno Lucas, Tom Rotella, Harold Payne, Maurice Bega, George Tavy, Rick Keefer, Les Gantan, Greg Bissionette, and the list goes on……
Recently Kalapana released the Hawaii version of "Captain Santa Island Music" with liner notes by International radio DJ, Kamasami Kong. More recently Kalapana released in Japan a new CD titled "The Very Best Of Kalapana", which includes 20 of their hit songs. Kalapana will going on tour this summer to the Mainland as well as Japan. Kalapana has been seen on Japan television stations in commercials for "Captain Santa" clothing line the last two years.
In February 1999, Kalapana lost one of their founding members, as Mackey Feary passed away. His presence was missed by his fellow band members and fans thru out the world. His music will live on thru Kalapana and many other groups and singers who loved his music. With their decision to carry on the legacy of, one of Hawaii's most popular and enduring bands, Kalapana will continue to share his songs with their fans.
During the summer of 1999, Kalapana released "Love Under the Sun" , the title song for FM Nagoya's compilation CD, which was used for FM Nagoya's Summer Campaign. Also, they recorded the theme song for the Asahi Super Cup, a series of sailboat races held off the coast of Oahu. Both recordings were done at Tetsuya Komuro's new world class recording studios in Hawaii, TK Disc Studios.
November 5, 2002 – release of new CD. The blue album contains new songs, including two songs featuring Maurice Bega on vocals. Guest artists included the group Chant singing background vocals on "Ten Years After", which was written by mega Japanese recording artist/producer Tetsuya Komuro, Tris Imboden from the band Chicago on "Another Lonely Night", Michael Paulo on sax, Pauline Wilson and Garin Poliahu on drums. James Studer, our Kailua bruddah, appears throughout the CD with his arrangements and keyboard work.
Kalapana continues to be the symbol of inspiration and positive direction for Contemporary Hawaiian music and musicians today.
Discography
The 40th Anniversary Best
Pony Canyon 2013

Tracks: Disc 1: Paradise, Juliette, Midnight Sailing, Real Thing, I Remember You, Molokai Sweet Home, Kick It, Many Classic Moments, Keanae Breeze, Writing On A Fortune, Paradise Romance, Coming Home, Chablis, John´s Song, Love Under The Sun, Dana´s Tune & (For You) I´d Chase A Rainbow. Disc 2: Black Sand, Pacific Oasis, Hawaiian Wedding Song, Lover Of Mine, Santa´s Island, Seaside M, Right From The Start, Jody, Full Moon Tonight, Winter Of ´69, Water Song, Velzyland, Tonight I´m Thinking Of You, Walk Upon The Water, Me And My Shonanbo & Happy Xmas (War Is Over).

Musicians on the 40th Anniversary Best album: Kalapana and others.