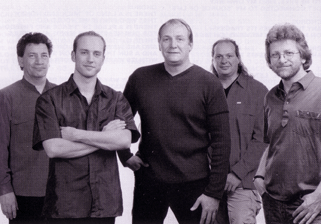 The band formed in 1975 from members of the two already previously successfully groups Gospeltrans and Gospelband Sunshine from the Siegen area.
Their name Damaris Joy took the band members of a birth announcement in the newspaper.
At the end of the 1970s, the following orchestras emerged: Helmut Jost, singer and bass player, his brother Frieder Jost and Pit Naujoks on the electric guitars and acoustics, Ute Naujok's singing, percussion and strings, Hans-Martin Wahler On the keyboard, Andy Braach on percussion, trombone and congas, Karl-Friedrich Wahler on drums and Ralf Freudenberg on sound engineering.
In the following years the band changed several times. The list of the band members includes Thomas Adam, Sebastian Cuthbert, Martin Stoeck and Armin Müller. After five years of concert activity, the band decided to produce a record.
Due to initial financial reservations from the Christian rock label Lord Records (today's Gerth Media), the band recorded a live album in October 1981, the record became a very successful, so the first Studio album succeeded in the beginning of 1983.
Over the years, Damaris Joy has developed into one of the most successful Christian rock bands in Germany with sales of up to 8,000 units of their studio album Open Door before the dissolution at the end of 1988.
After fifteen years the band signed a limited comeback.
At the Promikon-Musikmesse in Giessen, the band was once again performing live at the gala "Forever Young – 50 years of Christian pop music in Germany"
More info at the Damaris Joy website.
Discography
Limited Edition
Gerth Medien 2002

Tracks: Limited Edition, Love Comes To Town, Take It As It Is, Night Of The Proms, Do You Ever Know, Love Is, Talk It Over, Pick Up The Fallen Ones, We´re Still Gathered At The Throne, Summer Rain, Any Time & Gentle Light.

Musicians on the Limited Editon album: Sebastian Cuthbert, Hans-Martin Wahler, Frieder Jost, Karl-Friedrich Wahler, & Helmut Jost.