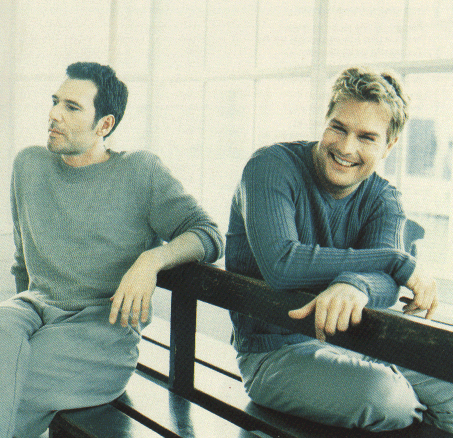 Beautiful west coast pop from Breeze…
Danish Pop duo BREEZE, comprising of Hasfield and Quang, are back with their second album "Twice Shy". Produced by Paul Bruun who was responsible for Michael Learns To Rock, the album contains of great pop melodies like this ballad "To Stay". Besides writing their own material, Hasfield and Quang have also produced and written songs for other artistes like Bed & Breakfast and Dear Mom. Catch Breeze real soon when they head for Asia in the early 2001 to promote the new album.
Hasfield and Quang or better known as Breeze, are back with a brand new album.
Two years have passed since the release of "Just A Feeling" – a unique blend of melody-driven pop songs, powerful love ballads and an irresistible Scandinavian sound. "Twice Shy" is the name of their latest album. Filled with more upbeat sounds and a modern touch, the new album still has the 'love' theme. Writing love songs is the forte of Hasfiled and Quang. The Breeze duo keep by two principles when making music – keeping it honest and simple and if they can't play a song on one guitar, they won't record it!
Most of their songs deal with their personal experiences in love. "Being in love can hurt and you can hear it in the songs and that's one of the reasons why it is so important to be honest when you make pop music."
The two Danes have been working together for ten years now. While Hasfield sings, Quang takes care of the music. Like opposites attract, both write the songs and produces them together. Although both have distinctly opposite personalities, music is their common love.
After their phenomenal success, Hasfield and Quang have also been busy lending their magical touches to other artistes by writing and producing songs for them. "It's an incredible feeling, knowing that a love song we recorded in our small studio on a rainy day in Denmark, will be playing on the radio in faraway places like South Africa and Asia and maybe make people out there fall in love under the sun," remarks Breeze.
Hasfield has previously worked with artist as 'Dear Mom', 'Bed & Breakfast', 'Catch 21' a.m.o coaching vocals etc. Quang has worked with Gino Vanelli on a project called 'Kudasai', which was released on EMI and has been producing tracks for many Danish artistes as well.
Discography
The Best Of + 1
ASP Records 2006

Tracks: Have you ever been in love (Remix Version), Weak in the presence of beauty, Baby don't go, Heartbeat, Sealed with a kiss, Moon stars and sun, I can't describe it, To stay, I'll follow my heart, How do i stop missing you, Just a feeling, Wherever you go, With every beat of my heart, You take my breathe away & I don't wanna know.

Musicians on the Twice Shy album: Quang, Hasfield, Lars Fab, Bob Ricketts, Ann Louise and others.